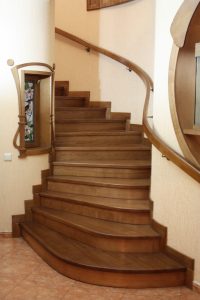 Domosvit Company is one of the leaders in the Ukrainian market of wooden stairs. We are the most high-tech enterprise with assets in its assets, a department for development and design, designers and installers. When ordering a wooden staircase from us, you get not just a "puzzle" – but also a full range of services, quality assurance, a huge selection of materials and decor, attention to detail, taking into account all your wishes. What do you need to order a wooden ladder from us? What are wooden stairs? In this text, you will receive answers to these and other questions.
Therefore, which is better: buy a wooden staircase or order an individual wooden staircase?
    Buy a ladder made of wood:/strong>
Therefore, if you decide to buy a staircase made of wood, you will immediately encounter a number of difficulties:
1. You will have to choose from a limited number of materials and models.
2. The dimensions, unfortunately, in the ready-made solutions are the minimum flexibility, and you may have to make certain changes to the design of your home / warehouse or office, in order to carry out installation.
3. Functionality. Often, wooden stairs have, in addition to the main task, additional ones. Therefore, for example, cabinets and wardrobes, secret doors, safes and much more are built into some stairs.
    Custom wooden stairs:
Choosing the second option – wooden stairs to order,, you get a number of advantages, because wooden stairs to order in Kiev, each of them will be as perfect as possible for your home. Therefore, when ordering a wooden staircase, you definitely get:
1. A huge amount of materials Our company buys the highest quality wood from all over Ukraine, as well as from around the world (on order).
2. Decor, design and construction. Our full-time designers will develop a unique design for you and add all the necessary functionality, and designers will design. Thus, the wooden stairs of our production are always stylish and functional. In the decor of the stairs, other materials (except wood) can be used – glass, metal (including forged elements), lighting and much more, depending on your needs.
3. Installation and warranty. Before delivering a wooden staircase to your home, our specialists assemble it in a warehouse, check the quality and reliability, after which they deliver and assemble it in your home. Each project receives an object passport and a warranty card.
    How to order a wooden staircase in our company?
Everything is very simple; we invite you to visit our showroom in Kiev, where you can get acquainted with materials, finished projects and other information that interests you. Further, you can invite our master (designer) to measure or provide your project / dimensions / drawings. If you live in any other city in Ukraine, you can contact us in any way convenient for you (by filling out the callback form, via chat, or simply by calling). Our company will take into account all your wishes and design features. Wooden stairs of our production – it is always stylish and reliable!